Search Engine Optmization And Football
Google is pushing AMP Web Stories again
Google is pushing AMP Web Stories again. In Google search results they are presented as Visual Stories: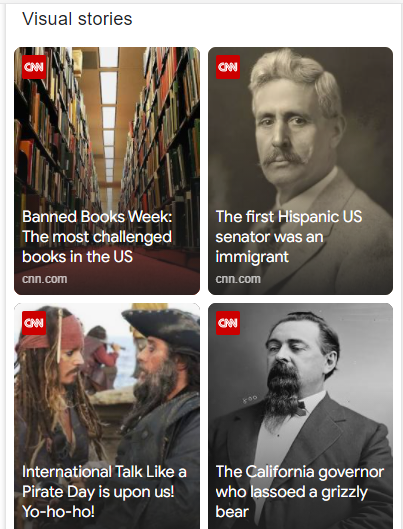 A web story is a single-screen multi-pane presentation format that allows text, images, video, and animations. I have been told it's basically Instragram Stories.
I created a few web stories a couple of years ago as I prepared for a brief presentation at Next10x 2018. One was a single-pane version that uses animation to show the brackets for the NHL Stanley Cup playoffs (it probably doesn't look quite right on desktop browsers). It turned out that the version I created back then is no longer AMP valid, as it was calling in a version of the AMP Project's Web Stories component JavaScript that has been deprecated. So, an AMP Web Story that's 2.5 years old was no longer AMP valid.
Google currently isn't giving Visual Stories the kind of preferential treatment that Top Stories enjoys, so it's not likely to be a traffic driver of nearly the same proportions. However, if Visual Stories get good play in Discover it could have material impact on traffic flow.
When is the next Google Broad Core Algorithm Update coming?
Since 2018, Google announces a small number of so-called Broad Core Algorithm Updates (BCAU) each year. These updates can greatly affect the organic search traffic a web site receives from Google. A negatively affected web site can lose 30% or 40% of its traffic, pretty much overnight. Other websites can see gains of a similar magnitude. For most web sites a BCAU do not dramatically or even noticeably affect traffic.
The most recent BCAU rolled out on May 4, 2020. Google usually avoids major SERP or ranking shake-ups during the run up to the holiday shopping season, which at latest starts on Black Friday in the United States. If this historical pattern holds, the window for the next BCAU is basically any day between now and the end of October (Halloween). My guess is that it is going to happen no later than October 15, but I think it is going to roll out in September. A September roll out will give Google an opportunity to adjust results that aren't to the company's liking. It will also give the company time to add smaller but significant changes as well as adjust SERP layouts and features.
Can Google choose not to roll out another a BCAU this year? I think the answer to that question is no and yes. As I understand it, the purpose of a BCAU is to improve the quality of search results. It seems odd that Google would decide that it is acceptable to let the quality slide. On the the other hand, everything Google does in search it can probably do differently. In other words, Google might change the way it rolls out updates so that BCAU become obsolete.